Root Canal Treatment – Jenks, OK
Taking Away Your Tooth Pain for Good
Root canal treatment often gets a bad reputation. With the misconception that it causes pain, you might assume it's simply better to just have the tooth removed. However, this is not true. First, a root canal doesn't cause pain but instead removes it, and second, keeping your natural teeth as long as possible is the best solution. At Elwood Avenue Dental, our team is trained to perform root canal treatment in Jenks so that you can enjoy your natural smile for years to come. Also, we can provide pulp therapy for children that may have damaged or decayed dental pulp, so call us to learn more.
Why Choose Elwood Avenue Dental for Root Canal Treatment?
Sedation Dentistry Available
Pulp Therapy for Children
Caring & Patient-Focused Dental Team
What Happens During a Root Canal?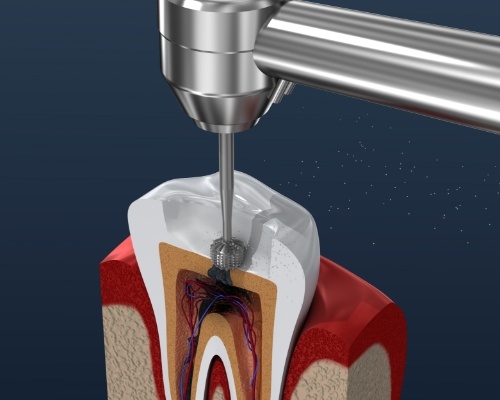 We will start the root canal treatment process by administering local anesthesia. Once you are numb, we will isolate the tooth using a dental dam. Then, we'll make a small hole in the crown of the tooth to access the interior, which we will then clean out as we make our way to the pulp. When reaching the area causing the pain, we will remove the infected or damaged pulp as well as clear out any existing canals.
The tooth will then be filled with a biocompatible solution before a customized dental crown is created and secured over it.